Le Coste
Clementine & Gianmarco
(Lago di Bolsena, Italy)
I feel that there is no other drop that resonates or vibrates as loudly or as deeply as when new releases from
Le Coste
arrive in town. I was chatting about this with my friend Reilly, who recently wrote a beautiful email about the project for Psychic Wines, the other evening. When wines of this power arrive en masse like this, where does one even begin, how does one unpack such density? With this many new cuvées and releases, a year would seem appropriate to even begin to unlock what these wines have to offer. I'm not sure I, nor anyone else, has that much time.
Like all of the winegrowers that get me the most excited, Le Coste have forged forward with a path all their own, and at the same time have never disregarded tradition. In their case, tradition taken from both Italian
and
French winemaking schools. Similar to Jean-Yves Peron's lineup of wines that feature Italian négoce fruit vinified in the Savoie, there is a sense of transit, specifically in Clementine and Gianmarco's wines that come from massale cuttings from their friends in France—most notably Bruno Schueller's Pinot Noir rootstock, and recently cuttings from Yann Durieux in Burgundy—both massale selections that find themselves in the new Pinotto cuvée; a high energy carbonic maceration of Pinot Nero, with a dash of Syrah added for a level of mineral depth. But whereas JYP's wines in that series come from purchased fruit, Clementine and Gianmarco take the source material and plant it anew, integrating new roots into their already special property above the volcanic Lago di Bolsena.
Like Cy Twombly's
Bolsena
series, in which Reilly deftly compares to the Le Coste wines for her Psychic piece, the wines of Clementine Bouveron and Gianmarco Antonuzzi consistently present themselves as spiritually resonant abstractions—juices that push towards the unknown, yet always remain rooted in place.
Litrozzo Rosato 2020
Liter
Aleatico / Sangiovese / Merlot /Procanico
$26
The staple party liter back in stock
SOS Lago 2019
Aleatico
$38
If this were in deodorant form I'd wear it every day—the most intoxicating nose and incredibly fresh on the palate
Bianco de Coccio Anfora 2019
Procanico / Malvasia / Moscato
$48
The first time Le Coste have released a wine aged in terra cotta amphora
Rosato 2019
Aleatico
$48
The wine that Clementine and Gianmarco have become most known for, and for good reason
Pinotto 2019
Pinot Nero with a touch of Syrah
$48
Young Pinot Noir carbonically macerated for a month before a year of aging—a quintessential new addition to the already deep lineup
Carbo 2018
Sangiovese
$48
Made only in what Le Coste deem "stellar vintages," this is carbonically macerated Sangiovese selected from their highest elevation plot
Bianco R 2018
Procanico
$53
Their staple Bianco taken to psychedelic heights—complex, savory and mineral
Due M 2018

Moscato / Moscato Giallo
$72
My heart flutters when I think about this wine
Primeur 2020 MAG
Aleatico
$85
Not sure that there is a red wine more suited for the magnum format than this
Rosato 2019 MAG

Aleatico
$112
Big Rosato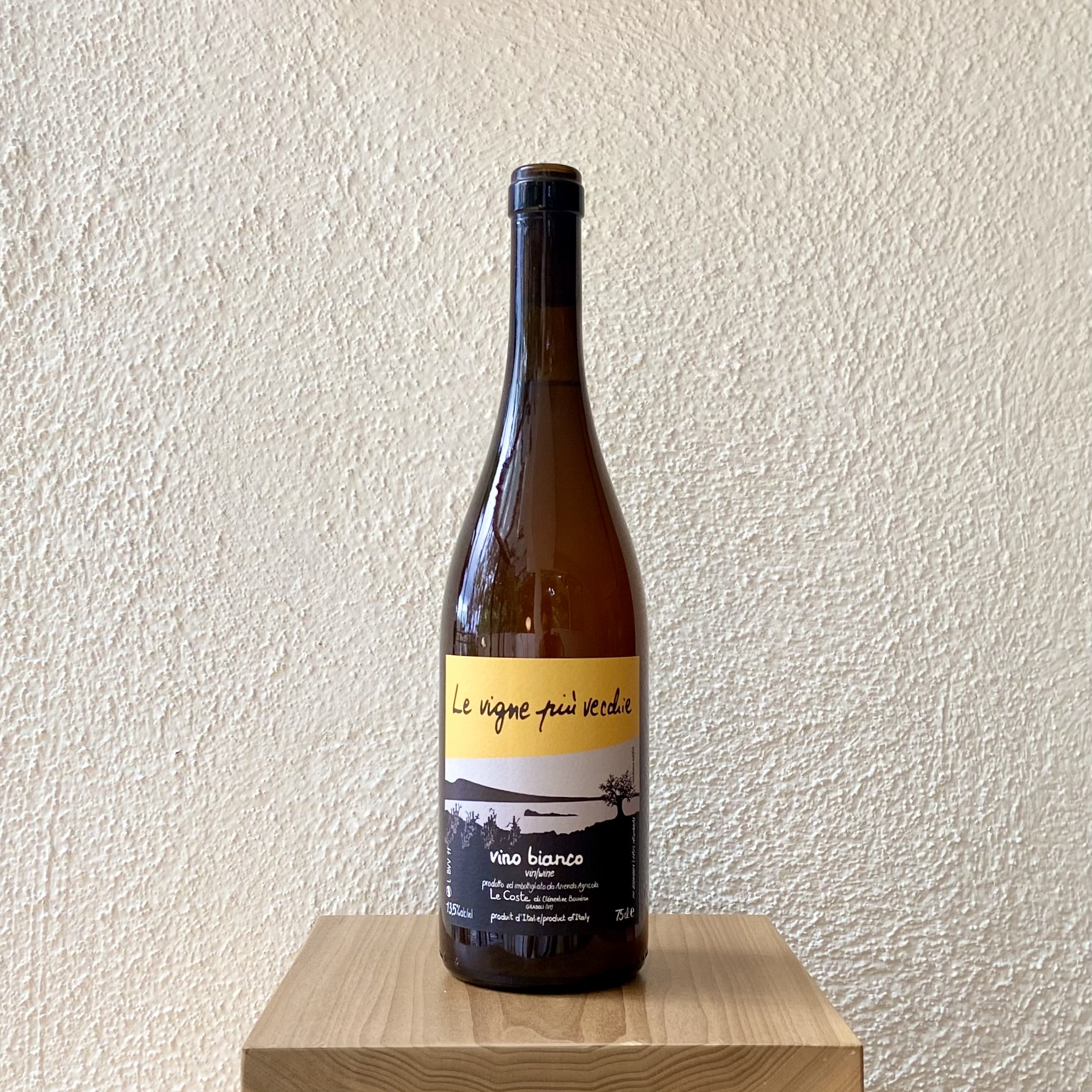 Le Vigne Vecchie 2011

Procanico
$150
A special selection of Procanico aged in foudre for two years, and then another eight years in bottle before release.
Rosato 2019 JEROBOAM
Aleatico
$315
Bigger Rosato